What is it with crafter's - we have more projects/UFO's/WIP's, whatever you want to call them, slowly and steadily building up around our craft rooms and homes, that we need or want, but still we plan something new. It just takes that one piece or bundle of fabric, never mind some inspirational image and we are off again.
Needless to say you can see where I'm going with this - I've found a image that has the creative juices flowing ..... You see I've been mulling over the idea of a quilt that I've made as the new background for my blog header and resorting fonts etc to try and unify everything and create a label, address card etc.
I've thought swirls, curves, applique, hand dyed, art poster, leaves, feathers etc - you name it I've looked and considered it, but yesterday when I saw this piece of beautifully crafted jewellery something seemed to click.
Now I'm keeping the design inspiration and my quick doodle under wraps at present, but I have been thinking about colour schemes. A simple clean colour palette (all palettes from Design Seeds).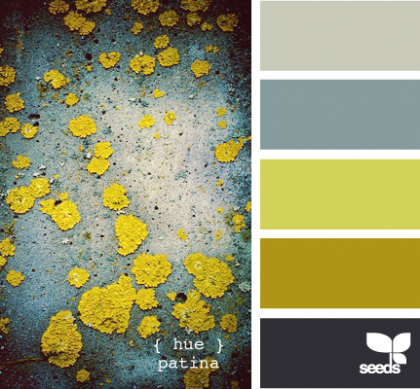 This, if I go with the original doodle design, will be a complicated, long term project and I hope to dye some fabrics to use on it, so I'll have to pick a good colour palette and dye some tester fabrics.